Root Canal Treatment
Modern dentistry techniques now provide root canal treatments that are simpler and less painful than traditional root canal treatments. So forget what your parents told you about root canal treatments and talk to Smile Makers Whitsundays if you think you might need a root canal.
What is Root Canal Therapy?
In very simple terms, a root canal treatment removes the infected pulp of the tooth to save the tooth above the gums and minimise risk of further damage to the tooth.
The process typically takes place over several visits. Under local anesthetic, the dentist will remove damaged or infected nerve tissue and pack the root canal with an antibiotic in case of any remaining infection. The cleaned and decontaminated canals are filled and the tooth is capped with a crown.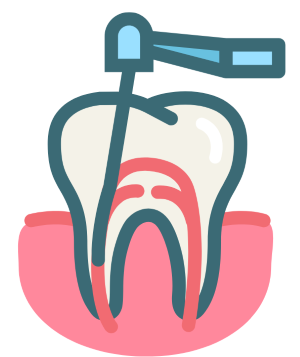 What are the Indications?
Moderate to severe tooth pain and/or swelling of your gums beneath the affected tooth can be indications of the need for root canal treatment. Do not delay, contact us right away for a fast resolution to that tooth pain.
Delaying treatment is not only painful but can lead to additional damage from the infection that could result in more serious and expensive treatment.
Smile Makers Whitsundays are skilled in root canal therapy, don't put up with the pain, let us help you get a good night's sleep free from pain!