Veneers – Seeking a new Smile!
Veneers are a custom-made shell that fits over teeth to provide a natural look. People with crooked, chipped or discoloured teeth can find smiling a painful experience, emotionally and physically.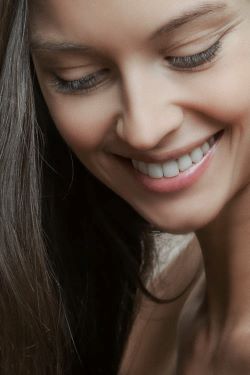 At Smile Makers Whitsundays, we can change your smile to your specifications with a procedure that completely covers discolorations, minor misalignment, chips and cracks easily through the application of veneers.
To inquire about this procedure, please contact us. We'd be happy to provide you with more information.
What are Veneers?
Porcelain veneers are thin pieces of porcelain shaped to fit over the front side of the tooth. Veneers ares strong, look natural and are made to match the shape and colour of your own teeth.
To prepare your teeth for veneers, the dentist will remove about one millimetre of enamel from the tooth's surface. An impression is made of the inside of your mouth, a mold formed and sent to a dental laboratory where the veneers are custom made.
At your final visit the teeth are cleaned and the veneer bonded to your teeth with a special cement.
You'll want to treat your new porcelain veneers just as carefully as you do your own teeth. This means avoiding biting on hard objects and not using your teeth to open hard objects! As with all dental procedures, you should maintain proper daily dental hygiene and visit our practice every six months for regular cleanings and examinations to be sure that your veneers are shining like new.